Todd's Protein Crisps are full of GOODNESS. They're as uncompromising on the inside as Todd was in making them. Todd's are made with real egg whites, prairie lentils and lots of other wholesome goodness.
Get $2.00 Cashback on Todd's Better Snacks from webSaver.ca.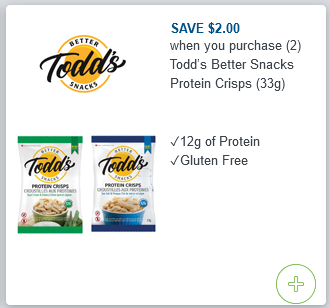 If you haven't already make sure to Join webSaver.ca today and get coupons to save your family money on groceries. Many webSavers save more than $600.00 per year with webSaver.ca coupons, deals, discounts and special offers.
webSaver.ca is Canada's largest online coupons website because we help people save money. Get the latest and best coupons, contests, discounts, freebies, giveaways, money saving tips and more.