Looking for some extra cash this holiday season? Look no further because we have an exciting contest coming your way from November 6th to December 11th! Get ready for a chance to win a grand prize of $1,000, and that's not all – we have 5 weekly prizes of $100 up for grabs too.
Enter "Holiday Charity Contest" now!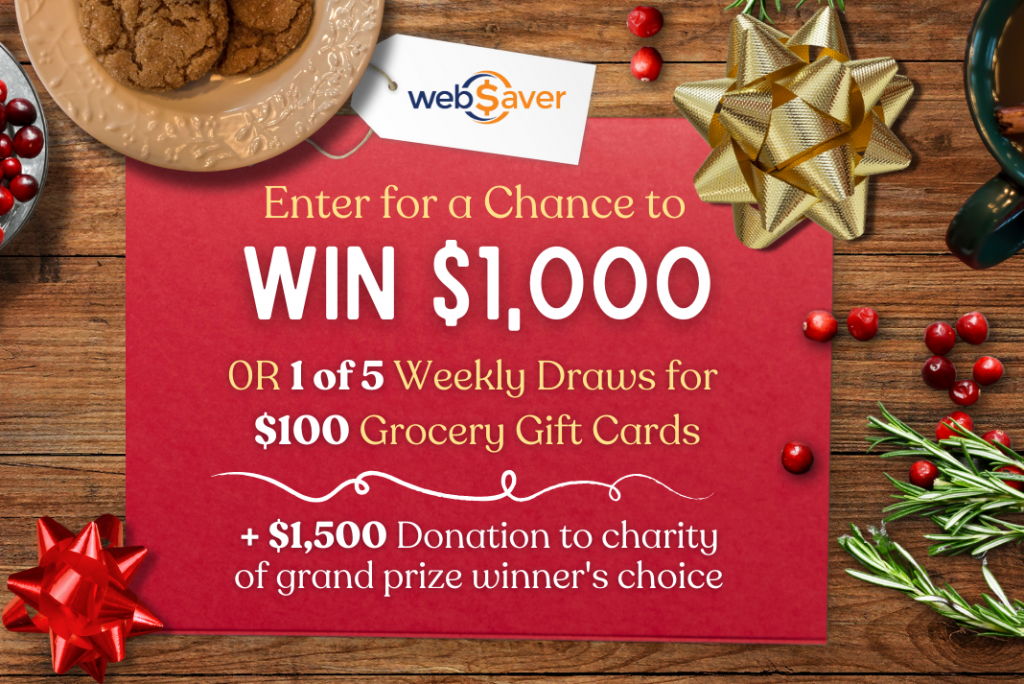 But this contest isn't just about winning cash prizes; it's also about making a positive impact on those in need. We believe in the power of giving back, so here's the twist: the grand prize winner will have the incredible opportunity to choose a food bank and we'll donate the total prize amount of $1,500 to that organization.
By participating in this contest, not only can you win a substantial cash prize, but you can also play a vital role in helping a food bank make a difference in your community. Imagine the joy and relief you can bring to those who need it most during the holiday season.
So, mark your calendars, set your reminders, and prepare to show off your skills and creativity. Join us from November 6th to December 11th for a chance to win big and make a positive impact on the world. Together, let's create a holiday season filled with joy, generosity, and unforgettable moments!
webSaver.ca Holiday Charity Contest Rules and Regulations:
To enter and qualify, you must be a webSaver.ca member.
The contest runs from November 6th, 2023 to December 11th, 2023, and closes at 11:59 p.m. EST on September 17th, 2023.
This Contest is open to all residents of Canada, who have reached the age of 18 by the contest entry date.
One (1) prize of $1,000.00 CAD ($1000.00 total) in the form of a grocery gift card + $1,500 donation to food bank industry charity of choice
1 of 5 weekly prizes of $100.00 CAD ($500.00 total) in the form of a grocery gift card.
Make sure to Join webSaver.ca and get coupons to save your family money on groceries. Many webSavers save more than $600.00 per year with webSaver.ca coupons, deals, discounts and special offers.
webSaver.ca is Canada's largest online coupons website because we help people save money. Get the latest and best coupons, contests, discounts, freebies, giveaways, money saving tips and more.