It all began with the McCain brothers. A family-run business from day one, stemming from generations of potato farming. Back in 1957 in Florenceville, New Brunswick, they had one goal in mind – to bring wholesome food to your family's tables. McCain also makes delicious dessert cakes with their McCain Deep'n Delicious line.
Get a $1.00 OFF Coupon on McCain McCain Deep'n Delicious products from webSaver.ca.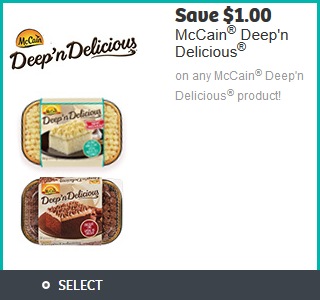 And if you haven't already make sure to Join webSaver.ca today and get coupons to save your family money on groceries. Many webSavers save more than $600.00 per year with webSaver.ca coupons, deals, discounts and special offers.
webSaver.ca is Canada's largest online coupons website because we help people save money. Get the latest and best coupons, contests, discounts, freebies, giveaways, money saving tips and more.