The Sabra Mission: To create fresh-tasting, better-for-you food with ingredients that exceed industry standards. The webSaver Mission: To save you money on the foods and products you love with amazing coupons, deals and discounts.
Now Sabra and webSaver.ca have come together to provide you this amazing $1.00 OFF coupon on ANY Sabra Hummus product of 283 grams or larger. This Sabra Coupon can be used for any of their Hummus dips including: Classic Hummus, Greek Olive Hummus, Roasted Pine Nut Hummus, Roasted Garlic Hummus and many more.
Get your Sabra Coupons now while they're still available!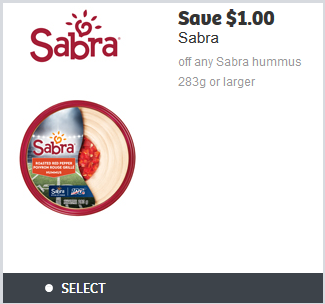 Sabra Hummus Dip starts with fresh chickpeas (aka garbanzo beans), tahini and a touch of garlic. Then they blend it smooth and add bold flavors; perfect for snacking, cooking, and of course, sharing. And it's super healthy for the whole family.
Get your Sabra Coupons now while they last.
And don't forget to check out all these amazing hummus recipes made with Sabra Hummus. Healthy and delicious!.
Join webSaver.ca today and save on Sabra Hummus and hundreds of your favourite brands.
webSaver.ca is Canada's largest and most trusted online coupons website because we help people save money.
And if you haven't already make sure to Join webSaver.ca today and get coupons to save you and your family money on your groceries. Many webSavers save upwards of $600.00 per year or more with webSaver.ca coupons, deals, discounts, contests and special offers.